are sometimes smooth and silky, and other times tired and tight.
Tuesday, November 24, 2009
Thursday, November 5, 2009
Yesterday I was bored and curious, so I did what everyone with a computer does when they're bored and curious - I started googling. What was I googling, you may ask? The first race I ever did - the Durant's Downtown Danbury Criterium.
This is what I found:
Danbury Bicycle Races

Last year 500 bicyclers participated in the Downtown Danbury Criterium. This year, with nine races scheduled from 8 A.M. and 3 P.M. today, up to 900 participants are expected. No more than 100 cyclers are permitted to race at any one time.

The start and finish lines are on Main Street near the Public Library. Entry fees, due at the starting line, are $5 to $8 depending upon the age of the cyclist and length of the race. The course runs down Main Street onto White Street, Ives Street and Liberty Street, and back to Main Street.

Distances range from 10 to 50 laps; each lap is seven-tenths of a mile. The last race begins at 1 P.M., with awards ceremonies scheduled to begin around 2 P.M. Cash prizes of $10 to $60 will be awarded in numerous categories, including children, novice, United States Cycling Federation members and seniors.

No one will be permitted to race without a helmet. All involved downtown streets will be closed to traffic from 10 A.M. to 3 P.M.
Considering that my race lasted about a lap, I don't recall much from it. As a matter of fact, I really only remember two things. The first was that I was the only guy with toeclips. That was far from helpful, and a convenient excuse for the brevity of my race. The second thing was the
t-shirt
I got for signing up. For some reason (probably the color - florescent pink) I actually wore it for years.
Being a pack rat when it comes to t-shirts, I started to wonder what happened to it. After a recent move, i had access to boxes whose contents hadn't seen the light of day for years. I hoped to find that old t-shirt, if for no better reason than nostalgia. Unfortunately it was not meant to be.
Nope. No hot pink t shirt faded to a dull salmon, but to my surprise I did find a t-shirt from my second race, the Tour of Holland (New Jersey, not the Netherlands).
That one didn't go down much better than the first, but the toeclips were not to blame: the steep climb and a poor choice of gears on the other hand... well, let's just say it was a memorable experience. The teal T-shirt, with its early desktop publishing font of choice - futura - may not have the clumsy caché of the Danbury shirt, but surprisingly it still fits.
What more could I ask for?
dictated to, and transcribed by

Shaver
at 11:03 AM
1 comments

Tuesday, November 3, 2009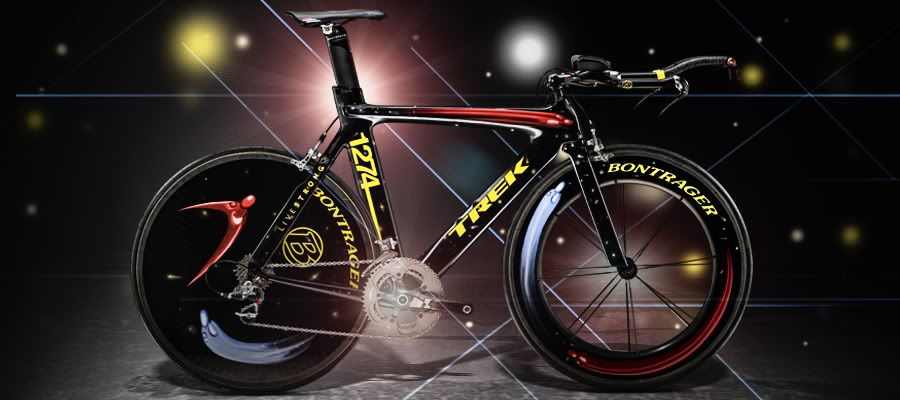 I have to admit that Lance Armstrong's custom bike paint jobs have always left me somewhat dubious. If I wanted to be cynical, then I could point out how the whole project isn't very far off of
Chicago's Cow parade
, and all of the imitations that have come since. The one thing that has kept me being a complete cynic has been Armstrong's palpable pleasure in the creations by the chosen artists and designers.
The
report
from the Sotheby's auction "
It's about the bike
" has come in, and with some interesting results.
Unsurprisingly, the
butterfly adorned bike
by
YBA
(perhaps
MA
BA is more appropriate these days?)
Damien Hirst
fetched the highest price of $500,000. For all we know, Hirst and an anonymous investor group bought the bike back.
It wouldn't be a first
. A distant 2nd to Hirst, was the considerably more understated
bike
by Japanese artist
Yoshitomo Nara
, which went for $200,000. In third place comes street artist, turned hipster entrepreneur
KAWS
, who's surprisingly
elegant design
brought in $160,000.
Perhaps the biggest surprise - to me - was the fact that the
Trek Project 1 bike
, created when Armstrong announced his comeback from retirement, hauled in $130,000. Unlike the other bikes, this one was created by a group of anonymous designers, as opposed to a group of anonymous designers working for a famous artist and/or designer. Then again, the bike has a
good story
.
I had expected the
fussy and frilly bike
done by street artist turned
copyright infringer
Shepard Fairey
, to bring in a bit more than the $110,000. I guess that's what happens when you let yourself get over exposed? Maybe he should have asked Damien Hirst for some suggestions?
The $110,000, that the
shiny black bike
created by designer Mark Newson, brought in was also slightly lower than I anticipated. especially considering how high his work
soared
not so long ago. Then again, I haven't followed his market value for a while.
So, a night of surprises. That is, apart from poor old
Kenny Scharf
. I've never been a big fan of his bubble gum pop art. Too slick, trick, shiny. All gloss, no glory. That said, this time he came up with a reasonably attractive and - for him - understated design. Perahaps too understated, because his creation only managed to bring in a 'meager' $45,000. Poor guy.
dictated to, and transcribed by

Shaver
at 8:15 AM
2 comments