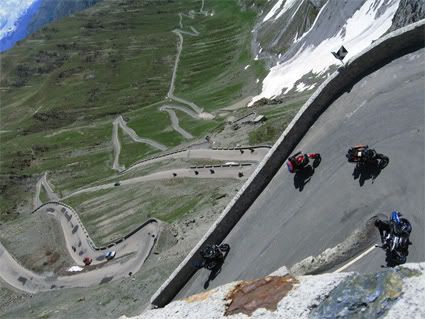 The Passo delo Stelvio was
commissioned in 1818 by
Franz I
, the Emperor of Austria, to connect the
Austrian Empire
to
Lombardy
, one of its kingdoms. Brescian born engineer
Carlo Donegani
drew up the plans, and work commenced in 1820. The 48 kilometer long road, with it's 60 hairpins, snaking along a 1871 meter climb, peaking at 2757 meters above sea level, was opened in less than five years after construction began. Up until World War I, when the Italians took possession of
Trentino-Alto Adige/Südtirol
, and other Austrian territories, it marked the border between the Austrian Empire, and the
Italian Kingdom
. These days it's an outdated relic, of a failed empire. But what a stunning relic it is.
On a bright, and clear day, with temperatures in the region of 27°C in
Bormio
, I found myself in the back of a car, ascending the 'easy' side of the Stevlio. As we passed cyclists, working their way up, I rolled down the window and shouted encouragement. I knew that soon enough, I'd be in their shoes, only on the other side of the pass.
Once we reached the top, and prepared our bikes, we began our descent. Having gone down in a hairpin just the day before, I opted to embrace caution through the switchbacks. The simple fact that the road was open, and filled with Motorcycle riders who seemed to think that the road was theirs for the taking, proved that my choice was merited.
It took 45 minutes for us to work our way down from the Dreisprachenspitze, to the German speaking town of
Prato allo Stelvio
, where we stopped for espresso and strudel, to help get us prepare for the 24.3 kilometer journey, up 1808 meters, through 48 hairpins, back to the top.
My intentions were to take it easy. I had already put too much time on the bike that week, especially considering that in two days time I'd be riding the
Gran Fondo Marco Pantani
. As we approached Ponte di Stelvio, the initial grades were deceptively gentle. As we passed through Gomagoi, the climber of our group upped the tempo, taking our
Frisian Muur
with him. Or maybe all he did was maintain his tempo? I initially tried to stay with them, but thought better of it, so I let go. This was meant to be an easy day, or at least as easy as one could hope, when you ascend one of the most famous climbs, the place where
Fausto Coppi
cemented his place
in the history of cycling.
Today wasn't about my assuring my place in history, it was about hauling myself up to the top, and enjoying the views that 48 switchbacks afford. I shifted into my easiest gear, and found my tempo, trying to ride well within myself. Every now and then I would look over my shoulder, and see two of the friends who I was traveling with, creep closer to me, so I would accelerate. It might have been an 'easy' day, but I still had my pride.