As a typical product of the New York City racing scene, I've done my fair share of races in Central and Prospect Park. Those frigid early mornings, pinning your number on to your winter biking jacket, dropping the safety pins because you had lost the feeling in your fingers, then couldn't find them because the sun had yet to come up. Yes. Been there. Done that.
In the Netherlands they have a much more civilized approach to early season Saturday races: they have purpose built bike circuits, with club houses. Yes, club houses, with insulation, heat, electricity, and if necessary - internal plumbing. Nice.
About 8 km south from Amsterdam's city center is Sloten Sports Park. The park is home to soccer fields, a baseball diamond, a Velodrome, and a 2.5 km purpose built bike racing circuit.
The races start at the end of February, and run through early October. On Saturdays the races are organized by
WV Amsterdam
, and start at 1 PM, with the
"Trimmers"
(non-licensed, recreational riders), lasting 1 hour and 6 laps, followed by the licensed racers departing at 3:00 PM., lasting 1 hour and 9 laps.
The Start/Finish
Unlike Central Park, you pick up your number in the comforts of the club house.
Once you park your bike.
It cost a stunning 2€ to race, working out to be +/- 1.45€ an hour of fun.
The 'mini-museum' is free of charge.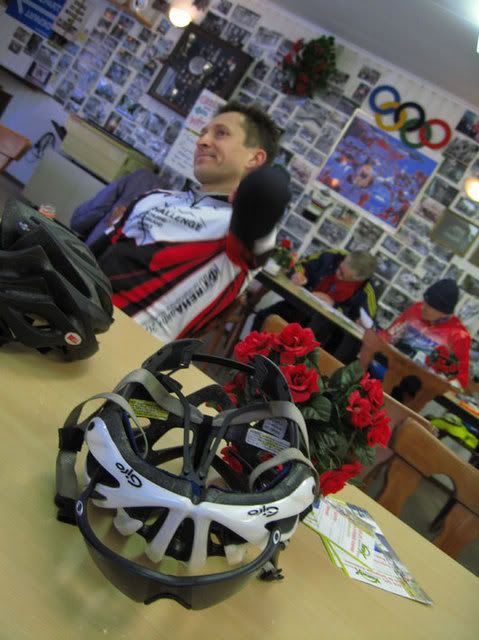 After the race you can get a coffee, or beer if you like, and talk about the one that got away.
If you're curious to hear about how some of the races go, and know some Dutch, you can check the reasonably regular race
reports
from the
Trimmers
races.