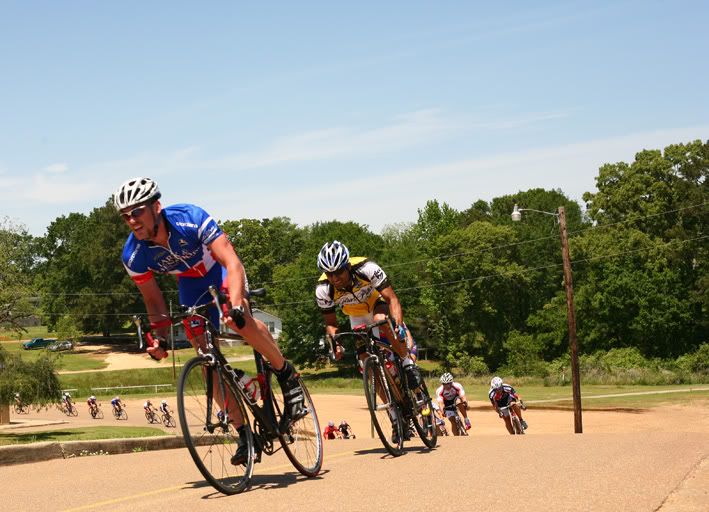 And you may ask yourself
Am I right? ...am I wrong?
And you may tell yourself
My god!...what have I done?
It was just about perfect. I found myself positioned nicely. Right on the line, waiting for the third, and final, stage of the
Mississippi Gran Prix
to begin. This time, thanks to the assistance of the
Baby Faced Assassin
and
Chopper
, two young guns who I had traveled with, my bike was ready to roll. No more stupid mistakes. That's when I got suckered.
Someone shouted that the race began in 10 minutes, so we might as well ride another loop, which is what I, and around 15 other riders did. By the time I circled around, there they were, the rest of the field, all lined up. I was stuck near the back. Perfect.
Fortunately, once the race commenced, I was able to wind my way through the field, and more or less get to where I wanted to be. What followed was 60 minutes of right turns, left turns, right turns, right turns, right turns, chicanes, and repeat.
While the road race had its moments, it seemed somewhat distant, if not introverted in comparison. Maybe it was my preoccupation with my
wobbly
wheel, or maybe it was because we were stretched out on the road, or maybe it was because it was the first day of racing? I don't know.
At the 'circuit race', which in truth felt like a criterium to me, things were intimate. You tend to get up close and personal when you're gunning for a tight-ish corner at speed. You notice who's not shaving their legs, and you try to avoid them. You suppress the urge to tell the guy next to you, that just because he can, does not mean that he should wear a skinsuit. Especially when he has sweat stains on the top and bottom of his love-handles. You don't even flinch when someone's brake lever brushes your thigh, or when your front wheel is almost taken out by the guy in front of you. OK… maybe you do flinch when the latter happens.
Other than those little tidbits, there's not much that I remember from the crit that's worth writing about. I tried some early attacks, with visions of
punk rockers
in my head, but that wasn't going to fly. Once I realized that, I didn't do much to distinguish myself, unlike jMac, who walked away with the flowers for the second stage in a row. What I did manage to do was get my first race of the season out of the way. It was just about perfect.