I woke up on Monday morning, and hit the snooze on the alarm. Again, and again, and again. I was tired. Too many hours spent on the bike, and too many hours spent watching the real deal has it's consequences. I decided to skip the start of the 3rd and last stage of the Giro in Amsterdam. I had more than enough photos, and really... what was there to see?
Then I received an SMS from a friend, on his way to work, expressing his jealousy that I had the chance to see one more day of the Giro. I thought about it, and realized he had a point. I also remembered that I was thinking about picking up some
souvenirs
for my nephews and niece.
OK. Up. Out of bed. On the bike. Off to catch the start.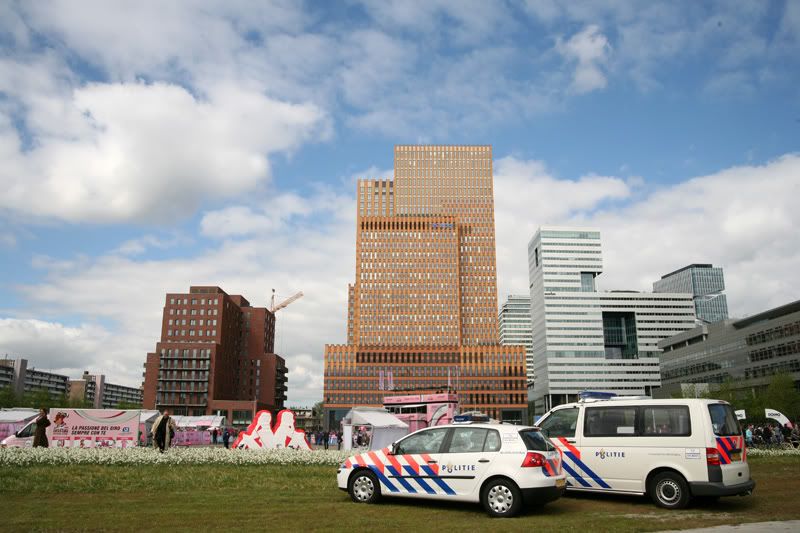 Today's stage began out of the center, in a generic business district called
Zuidas
.
It lacks the charm of
Museumplein
, but I doubt that the city center could handle being closed down for another day.
After the circus of
Saturday
, and the spectacle of
Sunday
, Monday seemed quiet.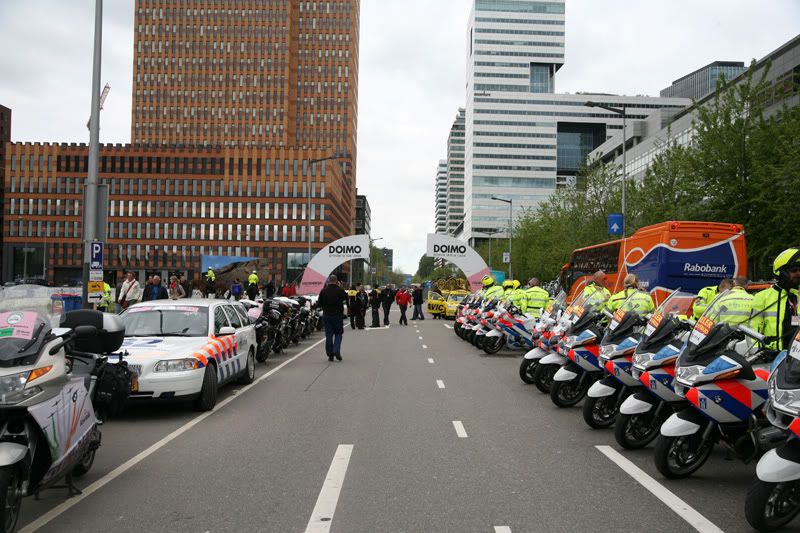 Initially the police made up most of the crowd.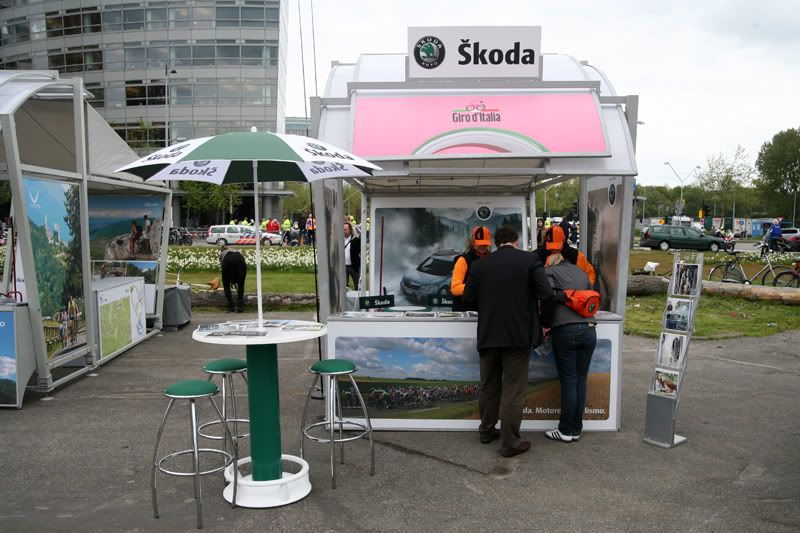 The sponsors stands didn't have many visitors.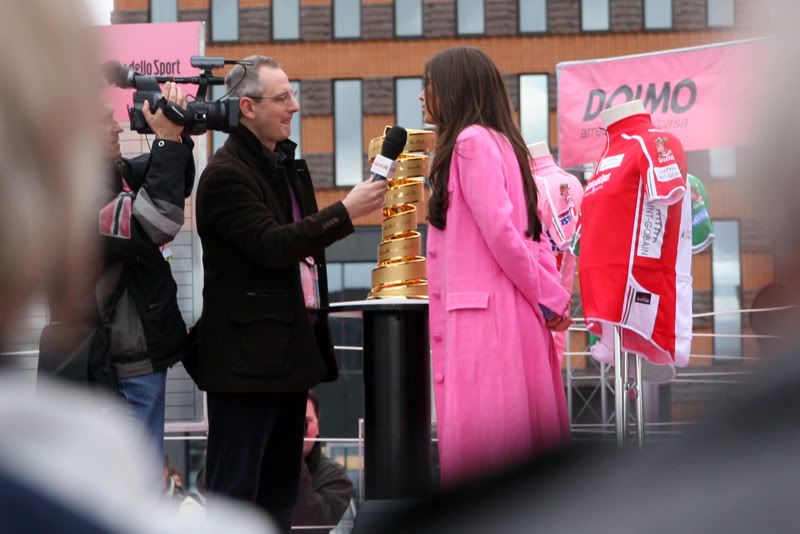 I guess all eyes were
once again on Yolanthe
.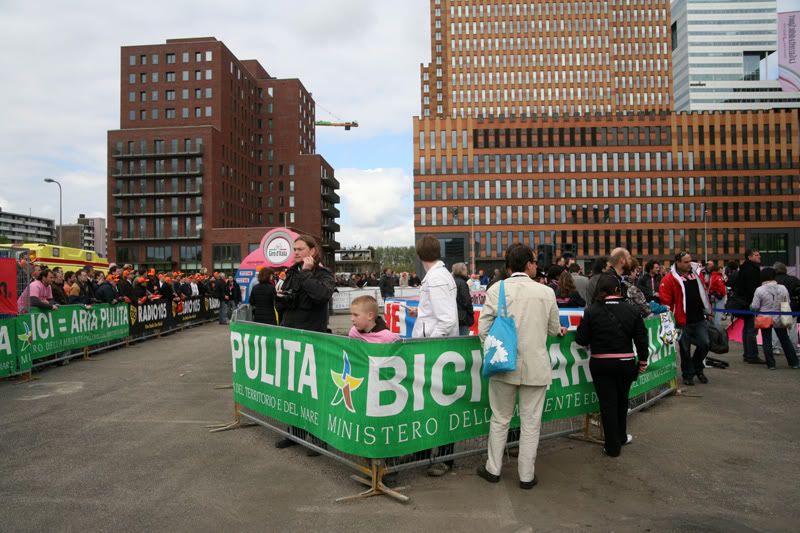 I worked my way along the barriers, and found a nice spot.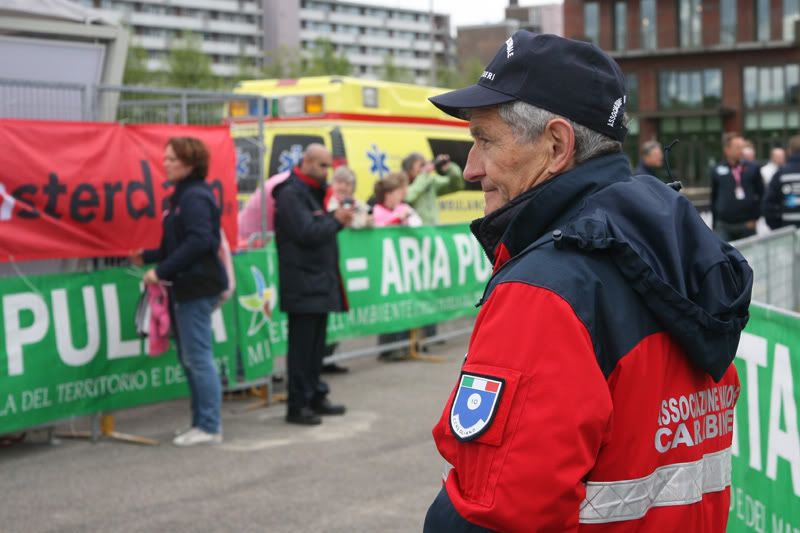 Right behind my friend from
yesterday
.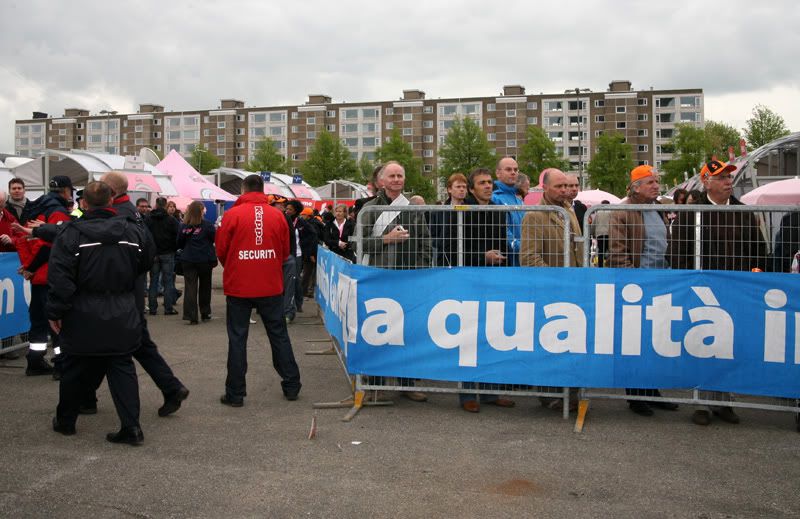 And nearby the VIP zone.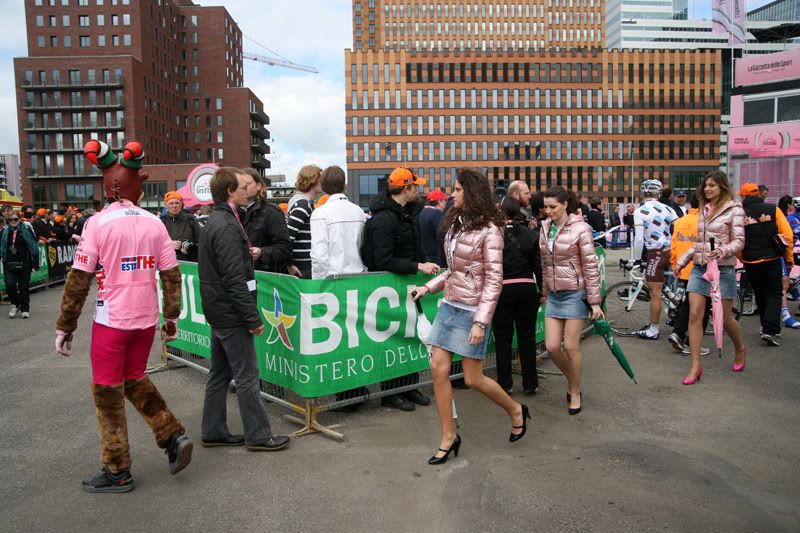 While Yolanthe was entertaining the crowd,
Girbecco
and friends passed by.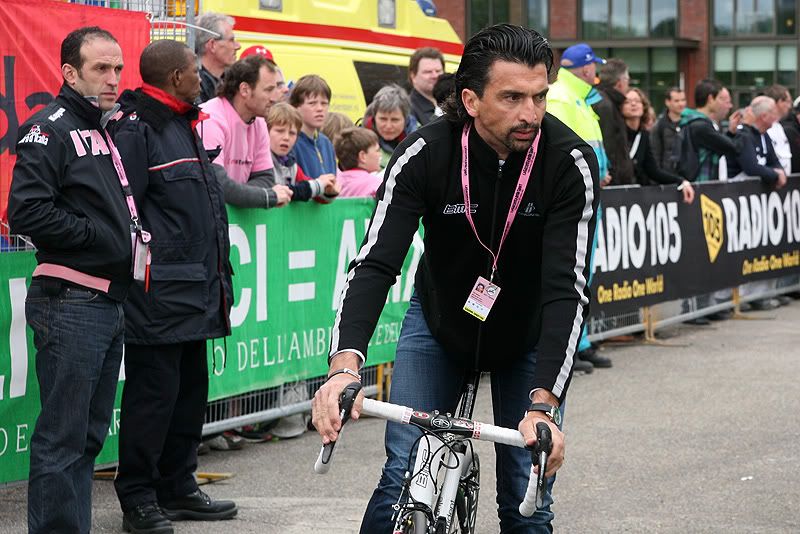 Followed by a
Baldato
.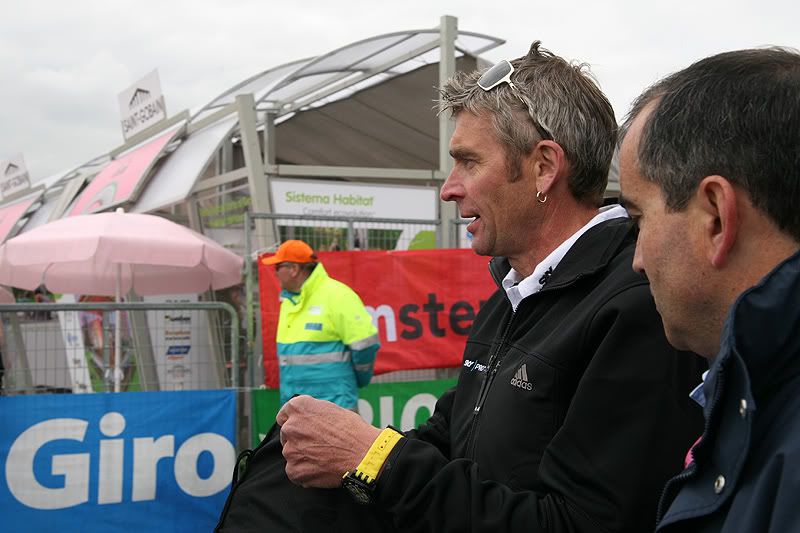 And a
Big Sean
.
Then the riders started to appear for the sign in.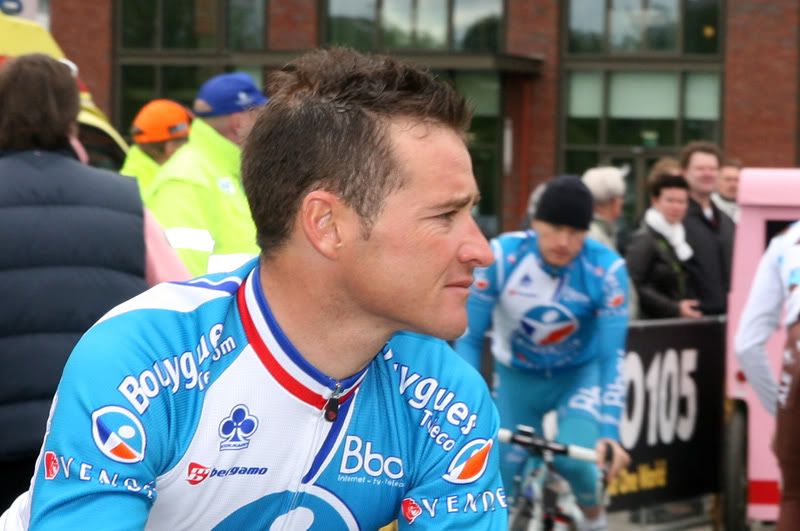 Thomas Voeckler
, early again.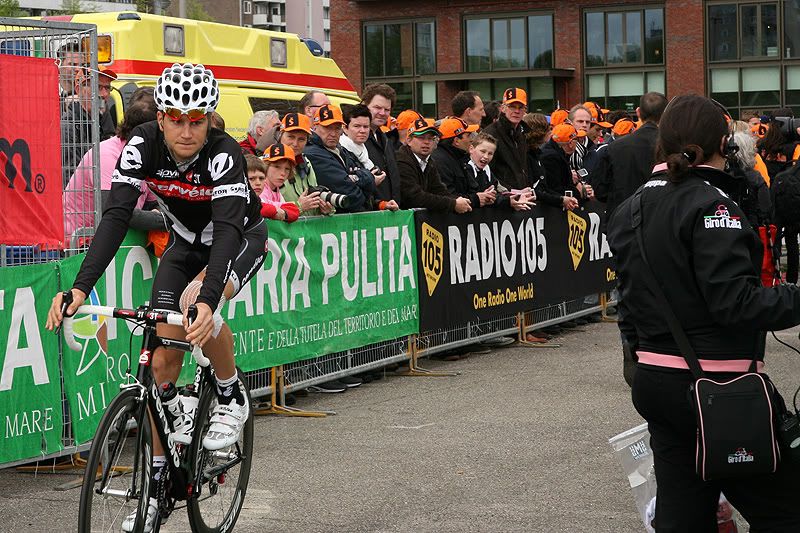 A
bashful looking
Ted King.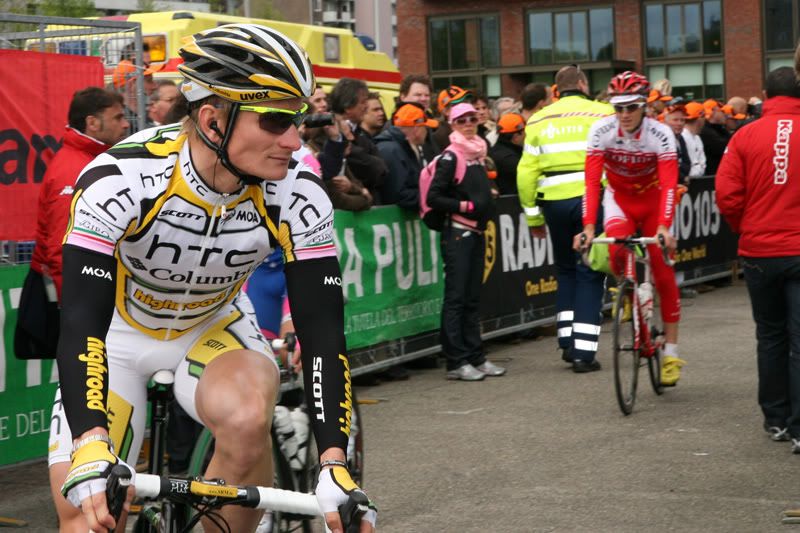 The man who became a cyclist
thanks to Kevin Costner
.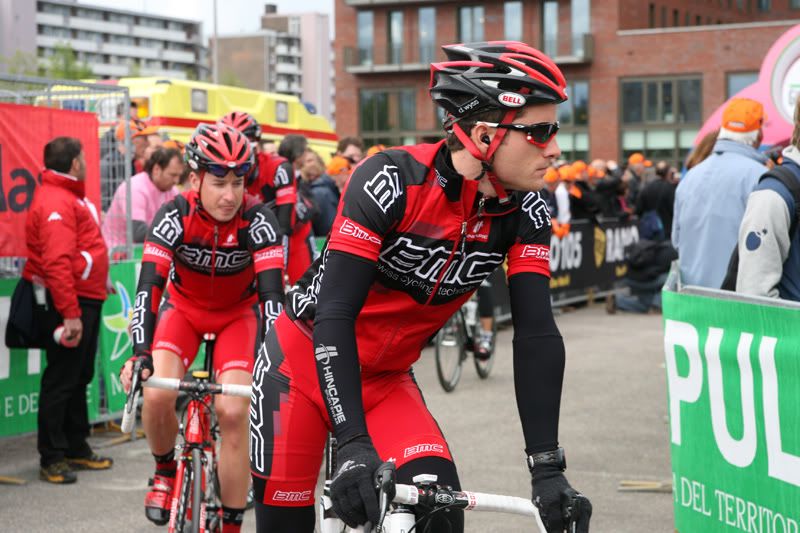 BMC in full effect.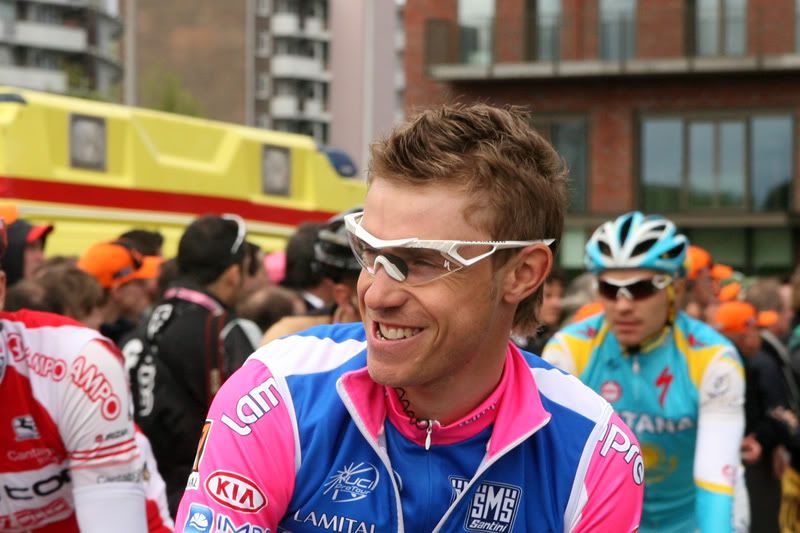 The
Piccolo Principe
, looking more like
Beavis
.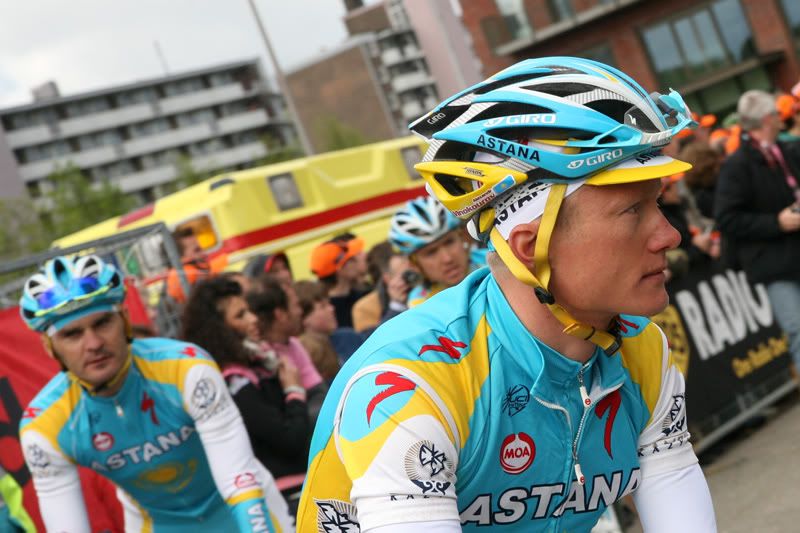 A determined looking
Vino
. Or maybe that's a relaxed looking Vino?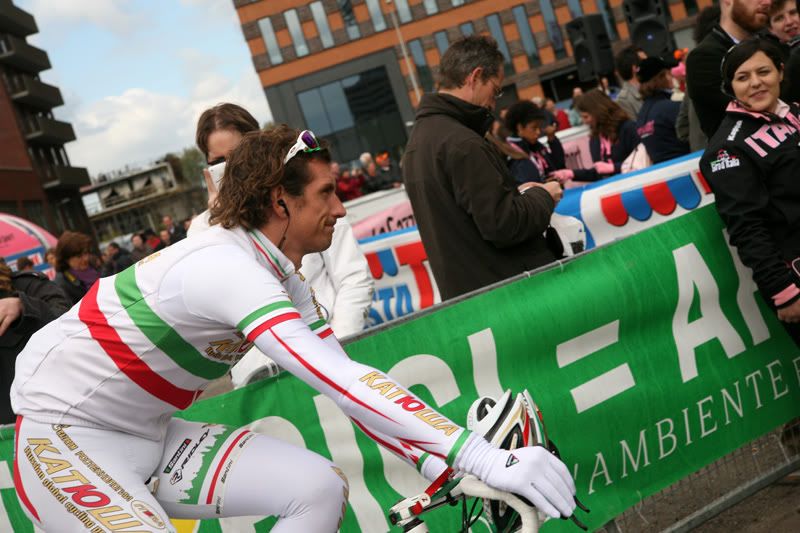 Pippo, received the gaze of an admirer.
Chris
received a few inquisitive gazes.
Stefano Garzelli
just gazed.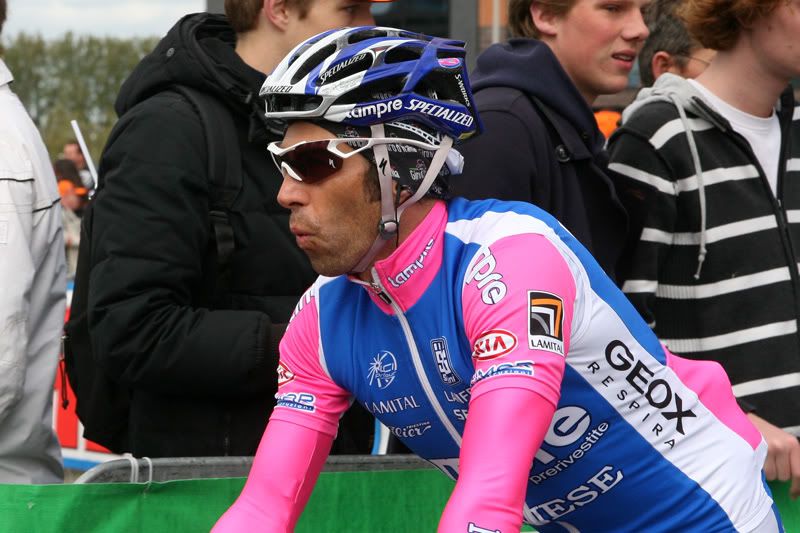 While Gilberto Simoni seemed to be enjoying himself, as he whistled by.
The riders came, and went.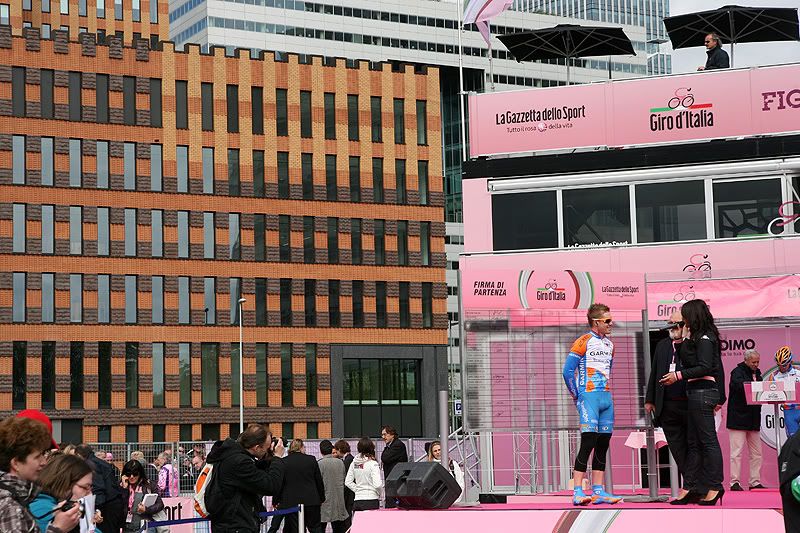 Some spoke with the MCs on stage, like Tyler Farrar.
Some stopped to sign autographs, like Carlos Sastre.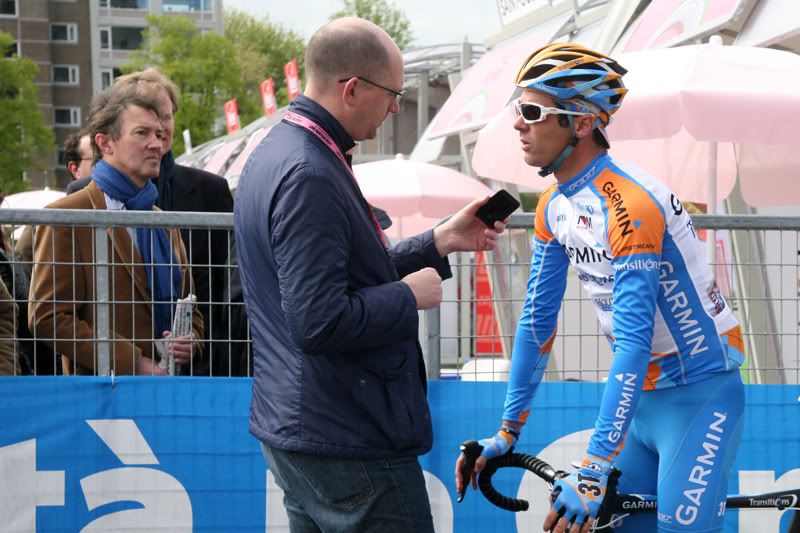 Some stopped to do a quick interview, like David Millar.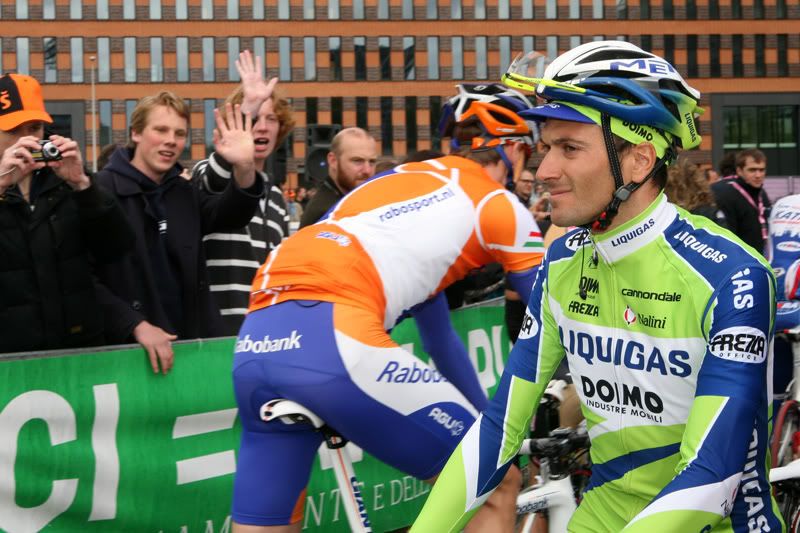 Some stopped, and perhaps found themselves lost in thought, despite the cheers of fans, like Ivan Basso.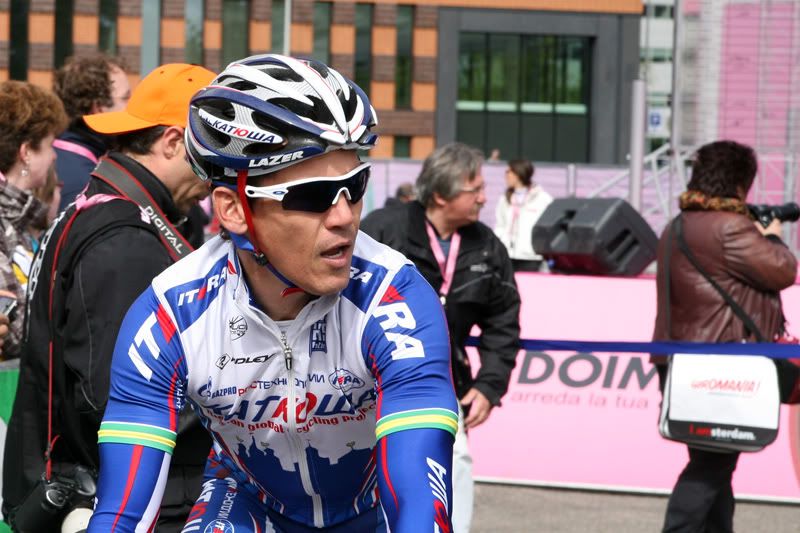 Some rode past, and chatted, like
Robbie McEwen
.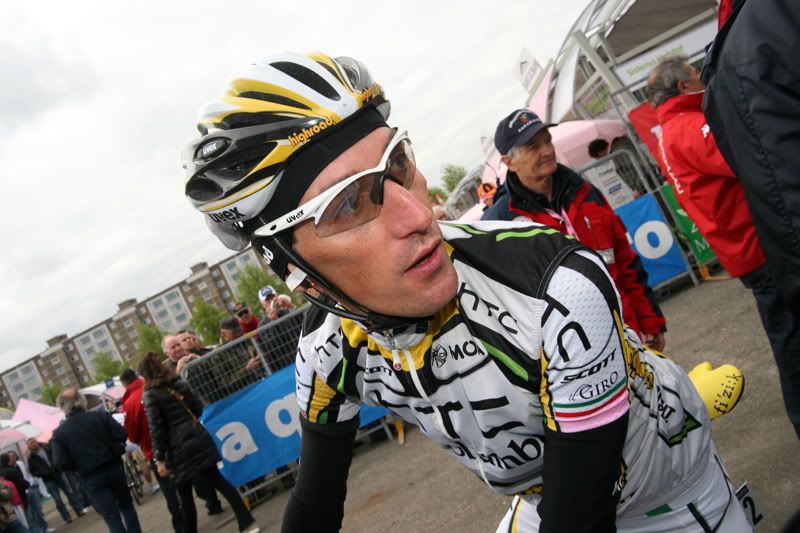 Some actually stopped, and chatted, like Marco Pinotti.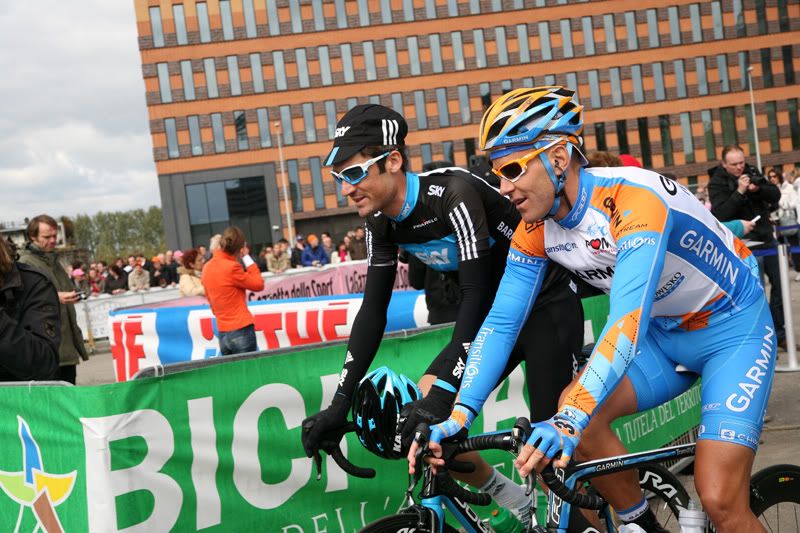 Some chatted amongst themselves, like compatriots
Svien Tuft
and
Michael Barry
.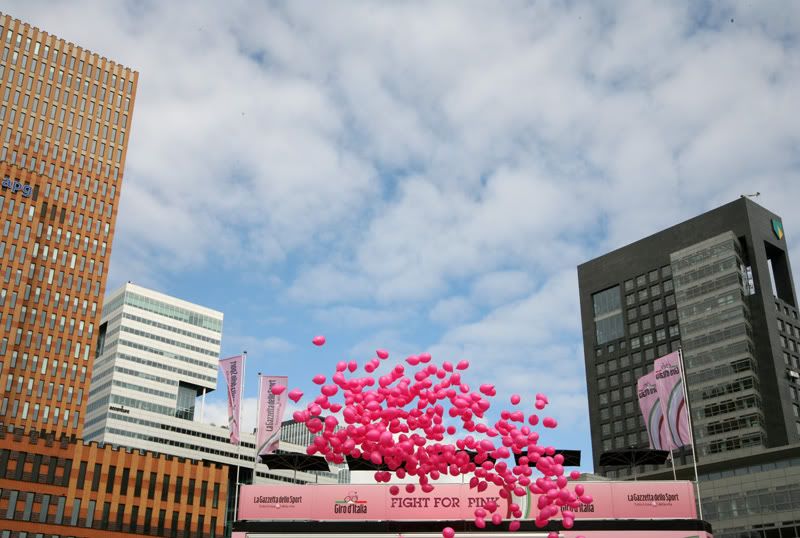 Eventually the signal was given that it was time to depart for
Middelburg
.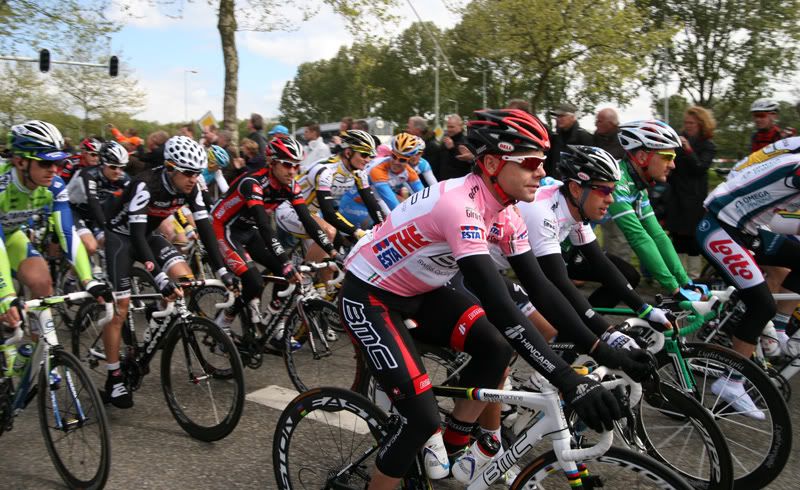 And off they went.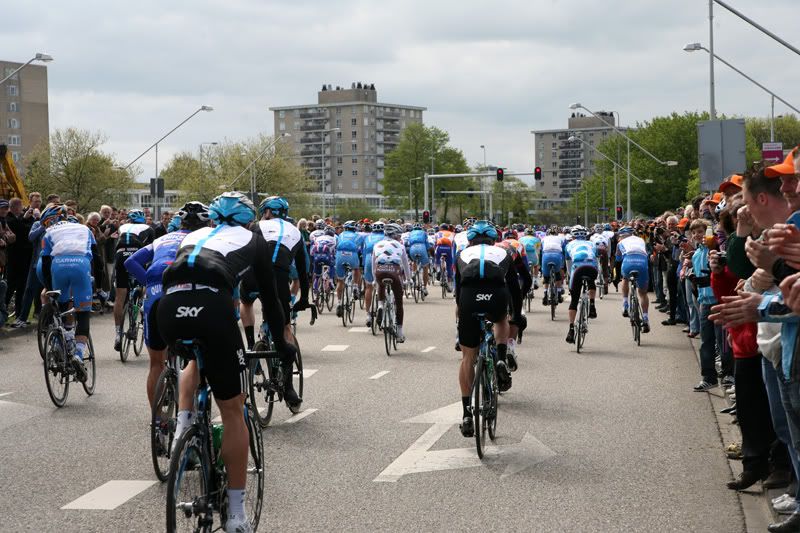 Leaving Amsterdam behind them.